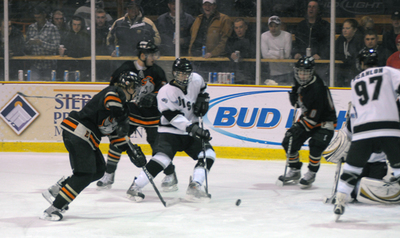 It was a record-setting game for El Paso goaltender Andrew Duff, as Duff earned his ninth career shutout, breaking Arthur Hollinger's record set just last season.
Duff and the Rhinos once again shutout the San Antonio, 7-0, Saturday night – Duff's second straight blanking of the Diablos and his fourth of the five consecutive games the teams have played each other.
Last weekend, the Brighton, MI, native had just returned from a knee injury that had kept him out of the lineup for nearly two months, making tonight's record-setting performance even more emotional.
In those five games – three in San Antonio last weekend and the two played thus far in El Paso – Duff has only allowed one goal, stopping 95 of 96 Diablos shots.
"It's all about the guys in front of me," said Duff of the Rhinos defense, which has only allowed 11 shots over each of the two games in El Paso. "It was a tremendous effort on their part and their names ought to be in the record book with me."
The offense wasn't bad, either, as Nick Gualano started the scoring on an unassisted short-handed breakaway, stealing the puck at the San Antonio blue line before beating Diablos' netminder Juan Talavera low to the glove side at 7:03 of the first period.
Timothy Avegard one-timed the rebound of Trevor Erickson's shot at 10:23 and El Paso had a 2-0 lead at the first intermission.
Mike Vallier rifled in a shot at 3:22 to start a five-goal avalanche in the second frame.
Tyler Ridgedell scored a hard-work goal at the crease at 6:06, Gualano notched his second falling away from a quick wrister at the top of the slot at 9:22, Trevor Erickson one-timed a tape-to-tape pass from Josh DeLoach at 11:21 and Anthony Knuth tucked in a rebound at 15:43 to wrap the scoring.
Gualano's tallies give him a Western States Hockey League-best 30 goals on the season.
El Paso runs its record to a league best 26-3-0, and their 52 points is 20 better than the second place Boulder Bison. San Antonio drops to 9-19-1 and remains in four place in the Mid-West Division of the Western States Hockey League.
The two teams play once more on Sunday at 5:30 p.m. MST, while Saturday's game can be seen tape-delayed on MetroSports Southwest, Time Warner Cable channel 24, at 5 p.m. MST.
For tickets or information, contact the Rhinos front office at 915/479.PUCK (7825) or go to www.elpasorhinos.com.