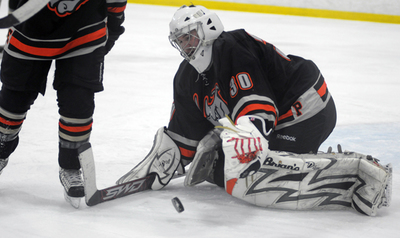 The good news for Rhinos goalie Andrew Duff was that his teammates didn't allow for much offense from the San Antonio Diablos.
Other than an end to seven periods of shutout hockey there wasn't much bad news, as El Paso won, 4-1, to wrap the three-game series in San Antonio Sunday afternoon.
El Paso's defense only allowed 12 Diablos' shots on Duff, but a game that quiet is sometimes a double-edged sword for a goaltender. In Duff's twin shutouts Friday and Saturday, the Brighton, MI, native faced 31 shots in each game.
The Rhinos will certainly take the one goal allowed in three contests, though, as El Paso ran its Mid-West Division record to 24-3-0. The team's 48 points is best in the Western States Hockey League thus far.
Sunday's contest was a defensive struggle for both sides for 40 minutes, as the first and third periods saw no scoring.
The second period was Amok Time, though, as both teams were able to cut loose offensively. The difference was, the three-time defending Mid-West Division champs scored four goals to the host team's one.
Defenseman Kyle Shapiro drew first blood for the Rhinos, scoring at 3:30 of the second frame, and forward Austin Balko made it 2-0 for El Paso at 9:45.
J.P. Kascsak became the first and only Diablo to beat Duff all weekend with a goal at 12:35.
But the Rhinos struck twice just 21 seconds apart in a four-on-four situation to put the game away, as Navarone Copley and Shapiro scored at 15:30 and 15:51, respectively.
El Paso will return home in time for classes Monday before getting ready to tangle with San Antonio at the Sierra Providence Events Center next weekend.
The Rhinos will celebrate Military Appreciation Weekend at the SPEC, Dec. 4-6, playing Friday and Saturday in special jerseys honoring the United States' armed services. The jerseys will then be auctioned off after Saturday's game to benefit Operation Santa Claus, which brings Christmas gifts to underprivileged children in the El Paso area.
The U.S. Army will also have a number of military vehicles available in a hands-on display for fans in front of the SPEC before the first two contests.
Friday's and Saturday's games will be televised on a tape-delay on Time Warner Cable's MetroSports, cable channel 24, and will also be available to TWC's digital subscribers on MetroSports On-Demand, digital cable channel 832.
For tickets and and information, contact the Rhinos front office at 915/479.PUCK (7825) or go to www.elpasorhinos.com.