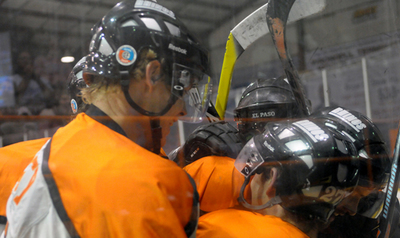 New Mexico Renegades goaltender Colton Ishmael stopped 74 of 78 El Paso shots, but his teammates could only muster 11 shots in return and Rhinos goalie David Eland stopped every one.
After outshooting New Mexico 48-4 in an 8-1 blowout Saturday night, El Paso won, 4-0, Sunday in a game made different by the man in between the pipes for the visitors.
Ishmael, a lanky six-footer from Tulsa, OK, made stop after stop, frustrating the Rhinos, who outshot the Renegades, 26-0, after the first period but had no goals to show for their dominance.
Things changed in the second frame, though not by much.
Ben Henne finally broke through for the hosts, bleeding Tyler Ridgedell's pass far-post past Ishmael at 3:48 of the second.
Still, because of Ishmael's presence, the game's outcome was in doubt until El Paso scored twice just 14 seconds apart as Austin Balko pounced on the rebound of Andrew Ketterer's shot and scored at 9:18, followed by a wicked wrist shot from Trevor Erickson at 9:32.
Erickson beat the defense to left circle and fired far-post past Ishmael, who had cheated a touch too far to his left.
Nick Gualano wrapped up the scoring in the third period, left alone in the slot to pick his spot and powering his shot through the five-hole at 6:28.
Gualano continues to set the bar for goal-scoring in the Western States Hockey League with 24.
El Paso improves to 21-3-0 and the Rhinos 42 points tops the league.
El Paso will take next weekend off as players head home for Thanksgiving, returning to play in San Antonio on Thanksgiving weekend, before the Diablos return the visit, coming to El Paso for a three-game series Dec. 4-6.
Sunday's game can be seen at 3 p.m. Monday on Time Warner Cable's MetroSports, ch. 24. Rhinos games can also be viewed free via MetroSports' On-Demand, digital cable ch. 832.
For tickets and information, call El Paso's front office at 915/479.PUCK (7825), or go to www.elpasorhinos.com.