Last weekend, the Rhinos shut out the Dallas Snipers twice in their three-game series. Additionally, Jakob Kranabetter became the WSHL's All-Time points leader and Krasanovsky earned his tenth shutout of the season. With the three wins, El Paso's record has improved to 46-1-1.
This weekend, the Rhinos will look for their fifth straight sweep of 2018 when Wichita comes to the Sun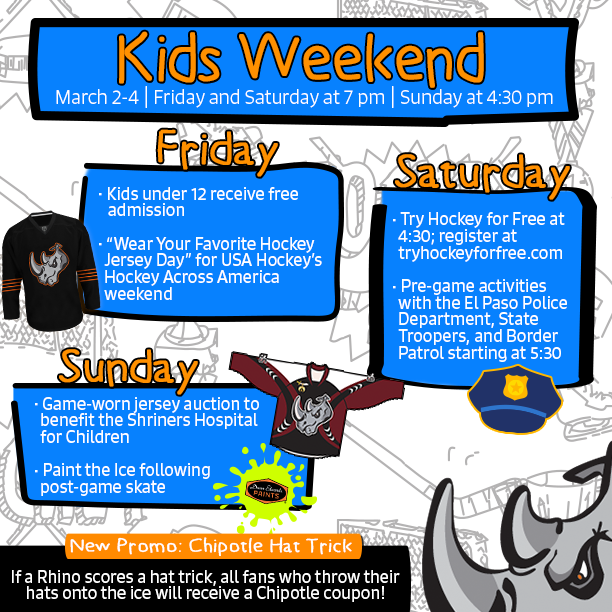 City for Kids Weekend! On Friday, kids under 12 will also receive free admission, while tickets last. On Saturday, the El Paso Police Department, State Troopers, and Border Patrol will offer pre-game activities outside the front of the rink. The Rhinos will conclude the series on Sunday with a game-worn jersey auction and one of the organization's most popular promotions, Paint the Ice. Fans can bid on their favorite Rhino's El Maida Shrine game-worn jersey to help raise money the Shriners Hospital for Children. Then, following the post-game skate on Sunday, fans can head down to the ice, grab some paint and decorate the ice with the players.
As part of USA Hockey's "Hockey Across America Weekend," the El Paso Hockey Association youth hockey players will lace up their skates for games during the first intermission of each game. All kids are invited to participate in USA Hockey's "Wear Your Favorite Hockey Jersey Day" and throw on a hockey sweater for Friday's game. On Saturday, at 4:30 pm, children ages 4 to 9, can come try youth hockey for FREE. Register at http://www.tryhockeyforfree.com/. More information on EPHA's youth and high school hockey programs can be found at elpasohockey.org.
Starting this weekend, the Rhinos will also introduce the Chipotle Hat Trick, the newest game promotion. If a Rhino scores a hat trick, all fans who throw their hats onto the ice will receive a Chipotle coupon! Fans can claim their hats in the public skating area and pick up their coupon then.