Birthdays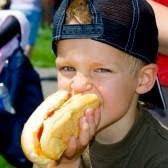 Give your child a birthday they'll always remember by celebrating at Campanelli Stadium with the Brockton Rox! There are two different types of celebration:
Bullpen Birthday party

How would you like to spend your pre game birthday party in the Rox Bullpen? The group reports to customer service upon arrival, and then led to the bullpen where the birthday group and their guests receive 5 Pizzas, chips and drinks, and a gift from the Rox! Before the game starts, your child will be called out of the bullpen to throw the games ceremonial first pitch! During the fourth inning, your group will be visited by KO will have "Happy Birthday" sung on the dugout followed by desert with a player in the kid zone. (20 guests, $500)
Additional birthday guests are $25.00. Additional game tickets are available for $6.00.
Rox Birthday Bash

​All participants will enjoy a hot dog, a beverage, a bag of chips and a dessert. The birthday child will also receive recognition over the PA system and Video Board, a visit from K.O, and a special birthday present from the team! (10 guests, $200)

​Additional birthday guests are $20.00. Additional game tickets are available as well for $6.00
**seating upgrades are available
In order to book a birthday party during a Brockton Rox baseball game, it must be arranged through a Rox Representative in advance of the game by calling 508-559-7000.