Coaching Staff

Mark Mason, Manager
Mark Mason enters his fifth season at the helm of the York Revolution in 2017. With 283 victories through his first four years, Mason is the winningest manager in Revolution history, now 46 wins ahead of his predecessor, Andy Etchebarren.
Mason tied Etchebarren for the franchise's all-time wins lead with his 237th victory in a 5-3 win at Somerset on June 16, 2016, and surpassed "Etch" with win number 238 the following night, June 17, 2016, in a 6-4 home win vs. Bridgeport.
The longest-tenured manager in club history, Mason also enters his eighth overall season on the staff in 2017, matching Enohel Polanco for longest-tenured staff member in club history.
Mason guided the Revolution to a 76-win season in 2016, the franchise's third-highest win total all-time. Once again fielding arguably the league's most exciting team, Mason's squad was known for its never-say-die approach, pulling off an incredible team-record 44 come-from-behind victories, eight more than the previous high, including 15 victories when trailing heading to the late innings. Mason also pushed the right buttons in close games, as his team went 43-28 in games decided by two runs or fewer, and 15-4 in one-run games at home. Overall, York's home field advantage was the Atlantic League's best with a 43-27 mark at PeoplesBank Park. Offensively, York bashed 133 home runs, their highest total in four years and the second-highest total in the league.
Known for his in-game tactics as well as his proven success in constructing a roster, Mason orchestrated the Atlantic League's second-best turnaround from first half to second half in his third year as manager, as the 2015 Revs went 40-29 in the second half, their winningest second half since the 2012 campaign. Mason's squad became one of the most exciting in the league, setting a club record with 11 walk-off wins and nine extra-inning wins, while leading the league with 29 home runs in the month of September. The Revs' 34 comeback wins fell just short of matching a then-club record of 36, tied the season before. York finished the season ranking second in the league in batting average and homers, and tied for second in stolen bases.
That followed a highly successful 2014 season in which Mason was named the Atlantic League Manager of the Year. Mason oversaw the league's biggest increase in wins and winning percentage from the previous year, as the 2014 Revs returned to the postseason after a one-year absence, gaining national attention during their playoff run, and knocking down numerous club records in the process.
Mason's 2014 squad totaled 78 wins during the regular season, the second-highest total in franchise history. York punched its postseason ticket by winning a first half title for the second time, with a club record 41 first half victories. Mason's offense featured the individual league leaders in batting (Justin Greene, .358), RBI (Chad Tracy, 97), stolen bases (Wilson Valdez, 55), and triples (Eric Patterson, 17). The lineup amassed 188 stolen bases as a team, nearly doubling the previous franchise record, and notching the league's highest total since the 2009 season. That exciting, balanced offensive attack was combined with a pitching staff that posted the league's second lowest ERA at 3.44 as a team, by far the best in franchise history. Other highlights included a team record 23 victories in games decided by one run, and a club record-tying 36 come-from-behind wins. The team's most memorable moment occurred in Game 3 of the Division Series as the Revs secured an extra inning come-from-behind victory over Sugar Land in front of, at the time, the biggest postseason crowd in PeoplesBank Park history. Fans across the country viewed highlights from that night as centerfielder Sean Smith tied the game with an eighth inning home run, hopping around the bases on one foot after sustaining a serious knee injury at first base. The play was featured on ESPN and Good Morning America among other national outlets, while garnering nearly two million views on the club's YouTube channel.
In his first season as manager, Mason guided the Revs to overcome an incredible amount of roster turnover, finishing just half a game out of the league's top half of the standings with the fifth-best overall record. Despite finishing the season with just nine players who were on the Opening Night roster and only two position players who were in the Opening Night lineup, Mason recruited and assembled the most accomplished roster in club history as a franchise-record 21 players with Major League experience suited up for the Revs in 2013. Mason also helped send six players back to Major League organizations during the season and three others to high-caliber leagues outside of the United States.
Following a highly successful three-year tenure as the club's pitching coach, Mason's promotion to manager was announced on September 4, 2012, as he succeeded Etchebarren in becoming the third field manager in Revs history.
As pitching coach, Mason's staffs amassed a league-best 221-183 record in three seasons, and the Revs were one of only two Atlantic League teams to reach the playoffs each of those three years. Mason has also produced numerous pitchers whose contracts have been purchased by Major League organizations, six of whom have gone on to pitch in the Majors. In addition to his success as pitching coach, Mason has held a leading role in player procurement since his arrival before the 2010 season, as his far-reaching connections and tireless efforts have helped the Revs win a pair of championships and establish new single-season club records for victories.
In Mason's first two seasons with York, the Revs became just the second team in Atlantic League history to win back-to-back championships, doing so in 2010 and 2011. The team's postseason success centered around Mason's pitching staffs, as the Revs posted a combined 3.10 playoff ERA with a 12-5 record during those championship runs.
Under Mason's guidance, the Revs finished in the top half of the league in team ERA in 2011 and 2012, including a then-club record 3.99 ERA during the 2012 season. The Revs also set team records in shutouts with nine and 11 in those two seasons respectively, leading the league both years.
Since Mason's arrival in 2010, the Revs have had 23 players signed in-season by Major League organizations, 13 of whom have come from Mason's pitching staffs. Six of those pitchers, and seven total players have made it to the Major Leagues. Lefty Justin Hampson (York '10) worked a 1.80 ERA in 13 appearances for the New York Mets in 2012. Right-hander Shawn Hill, who began the 2012 season with the Revolution where he did not allow a run in 27.2 innings as a star, finished that season in the Toronto Blue Jays bullpen, earning a win with three scoreless innings against the New York Yankees in his lone appearance. Lefty Scott Rice (York '11) made the New York Mets Opening Day roster in 2013 for his Major League debut and earned four wins in 73 appearances with a 3.71 ERA. Four more were promoted to the big leagues in 2014 alone. Southpaw Ian Thomas (York '12) made his Major League debut and the Atlanta Braves Opening Day roster. Righty Julio DePaula (York '13, '14) was called up by the Baltimore Orioles on July 7, just 11 days after being purchased from the Revolution. Left-hander Ryan Feierabend (York '12) earned a call-up by the Texas Rangers that same month. Corner infielder Andy Marte (York '13) was called up by Arizona on July 31, and homered as a pinch-hitter in his first at-bat for the Diamondbacks that night.
The 2017 season will be Mason's 29th as a coach at either the collegiate or professional level. He came to York from Western Pennsylvania, where he had most recently been the manager of the Washington Wild Things of the Frontier League. Mason's accomplishments in the Frontier League are numerous, having worked with three separate organizations on that circuit. His first stint in Washington began in 2002 as pitching coach, where he remained for three seasons. In 2005, he became manager of the Ohio Valley Red Coats and was named Frontier League Manager of the Year in his lone season as skipper of the team. In 2006, Mason returned to Washington as pitching coach, before taking the managerial reins of the Chillicothe Paints, also of the Frontier League. He managed the Paints for two seasons before joining the Wild Things for a third stint, this time as manager. Mason's pitching staffs led the Frontier League in wins in 2002, 2003, 2004 and 2006.
Before joining the pro game, Mason spent 16 seasons from 1987 through 2002 as the head baseball coach at Washington & Jefferson College in Washington, PA.
As a player, Mason pitched in the Pittsburgh Pirates organization, ascending as high as Double-A Lynn (MA) of the Eastern League. "Mase" also pitched at Waynesburg (Pa.) College, which is now Waynesburg University.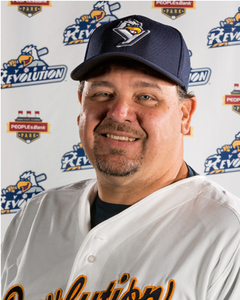 Paul Fletcher, Pitching Coach
Paul Fletcher enters his fourth season as pitching coach with the York Revolution in 2017, becoming the longest-tenured pitching coach in Revs history.
Under Fletcher's guidance, the Revolution pitching staff has enjoyed great success. In 2014, the Revs rolled out their best season as a unit in franchise history. Compiling the second most wins (78) in a season in club history, Fletcher's staff set a club record for team ERA with a 3.44 mark that also ranked second lowest in the league. The 2014 staff also set club records for fewest hits and walks allowed in a season, lowest opponents average (.254), and for most saves (42) in a season. Three pitchers from Fletcher's record-setting staff signed with Major League organizations during the 2014 season while two others signed to pitch in top-level leagues overseas. Among those signed was veteran reliever Julio DePaula, who capped a seven-year big league comeback when he was called up by the Baltimore Orioles on July 7, just 11 days after his contract was purchased from York. Also netting individual accolades was closer Rommie Lewis, who represented the Revs on both the midseason and postseason Atlantic League All-Star squads, while establishing a club record with 28 saves.
The 2015 staff ranked second in the league with 1,005 strikeouts, the second-most in a season in team history. Fletcher's hurlers played a large role in the team's second half turnaround, as well as their success in close contests, as the team went 14-6 in one-run games at home. Starter Logan Williamson and reliever Stephen Penney were selected from Fletcher's staff to represent the Revolution at the 2015 Atlantic League All-Star Game.
Fletcher's staff played a key role in another playoff season in 2016, as the Revs tallied 76 victories, second-most in the league and third-highest total in team history. Headlining the group was All-Star closer Mike DeMark, who held a sub-1.00 ERA for the year and set team records for single-season and career saves. Fletcher also oversaw the comeback of Major League veteran Micah Owings, a stalwart in the club's starting rotation, who earned a contract with the Seattle Mariners following the season.
Fletcher brings a wealth of experience to the Revolution, having worked in baseball in many capacities throughout the course of his career, which has included roles as a player, pitching coach, manager, and for many years as an accomplished pitching instructor.
Fletcher's professional career began in 1992 when he was selected by the Kansas City Royals in the 24th round of the Major League draft, after a decorated college career at the University of Tennessee where he was an all-SEC selection in 1991, breaking school records for wins, strikeouts, and innings pitched. After initially breaking into the pro ranks in the Royals farm system, the left-hander pitched for Ohio Valley of the Frontier League, earning a contract from there with the Chicago White Sox organization. Fletcher later returned to the Frontier League where the former star pitched for the Springfield Capitals as a closer to cap his five-year playing career, before making the transition to pitching coach with that team in 1997.
In three years as pitching coach in Springfield, Fletcher helped guide the Capitals to two league championships while producing future Major League pitchers Jason Simontacchi and Matt Duff. Fletcher also spent one season as manager in Springfield in 2000, winning a first half title.
Fletcher left professional baseball for a time to open a training facility in his home state. During that time, he also coached some of the country's most successful travel teams and high school teams. As pitching coach at The Lovett School, Fletcher helped teams that won two state titles and finished runner-up twice, while producing four area Pitchers of the Year and one state Player of the Year, leading the region in team ERA, and sending 32 players to the college level, 22 of which were pitchers.
Fletcher also helped start the Sunbelt Collegiate Wood Bat League, in which his teams have won a pair of championships, while producing eight players that went on to be drafted, six of whom were pitchers.
Those avenues have led the 45-year-old to become one of the most sought after pitching instructors in the southeastern part of the country. In addition, Fletcher has strong ties in professional baseball, having worked many years as a part-time scout, successfully signing over 15 players to Major League contracts.
Fletcher's background is similar to that of his manager's. Revs skipper Mark Mason also came to York following a successful path through the Frontier League as a pitching coach and manager, as well as becoming a sought after instructor himself.
Fletcher resides in Atlanta, GA, with his wife Jennifer and son Braden. During the off-season he trains several current professional, collegiate, and high school players, and prepares for the Revs season by working as pitching coach at Druid Hills High School.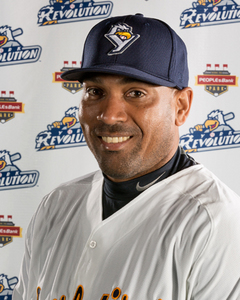 Enohel Polanco, Bench/Third Base Coach
Enohel Polanco returns to the Revs for his eighth season on the staff, joining manager Mark Mason as the longest-tenured members of the baseball staff in franchise history. "Polo" made the transition from player to coach during the 2010 season, initially as the club's first ever player-coach, holding both an active roster spot as an infielder as well as a spot on the coaching staff. During his time in York, he has played a major role both on the field as the team's third base coach, and behind the scenes in helping the club reach the postseason during five of his seven years. The 2010 and 2011 championships marked the first Atlantic League titles of Polanco's career.
When the Revs landed Polanco, they acquired a respected veteran whose Atlantic League ties run deep. The 2017 season is his 15th in the league, and the Revs are his sixth Atlantic League team.
A native of Puerto Plata, Dominican Republic, Polanco began his professional career in 1995 when he signed with the New York Mets. Primarily a shortstop early on, his 14-year career as a player also took him to the Chicago Cubs, Cleveland Indians, Florida Marlins, and Colorado Rockies farm systems, reaching the Triple-A level with Cleveland and Florida in 2000. In total, he played for 21 different clubs, including seven during the 2000 season alone.
Polanco first signed to play in the Atlantic League in 2001 as a member of the Atlantic City Surf, batting .303 that first season. He has also played in the Atlantic League for Nashua, Southern Maryland, Bridgeport, Newark, and York, batting a combined .290 during his time on the circuit.
With the Revs, Polanco has been instrumental in the organization's player procurement efforts and his connections, especially in the Latin American baseball community, have helped the Revs land numerous key players during the franchise's sustained period of success. His behind-the-scenes work with the team's hitters has paid huge dividends as well, as the Revs have led the league with a combined .278 team average, 9,254 total hits, and 4,824 total runs in the seven years since his arrival, while ranking second with 857 home runs. Polanco has coached 25 position players to all-league selections and 26 more to mid-season All-Star nods during his time in York. He has also mentored 10 position players whose contracts have been purchased in-season by Major League organizations. Polanco and the entire Revs coaching staff had the honor of coaching the Freedom Division to victories at the 2011 Atlantic League All-Star Game in York and the 2012 All-Star Game in Camden.
On June 19, 2012, Polanco passed his citizenship test, officially becoming a citizen of the United States. He resides in Kendall Park, NJ, with his wife Lizette Delgado Polanco and step-children Brianna Earle, Joshua Rodriguez, and Justin Rodriguez.